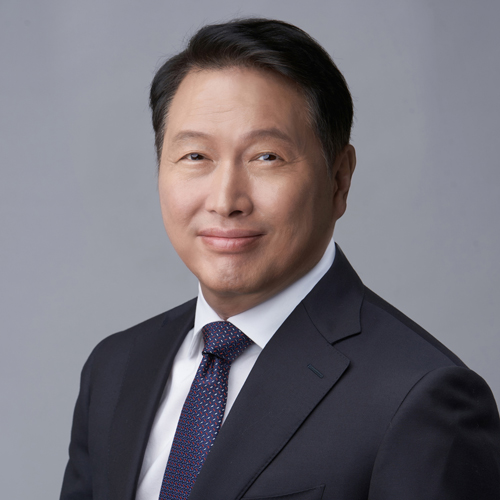 SPEAKERS
CHEY Tae-Won
Chairman, SK Group
PROFILE
Chey Tae-won is Chairman and CEO of SK Group, a position he has held since 1998. Under his dynamic leadership SK's global footprint has grown to encompass nearly 150 affiliates with a primary focus on energy, ICT and semiconductors. Notable acquisitions under his chairmanship include that of SK Hynix, which is now the world's third largest chip-maker. Recent investments have seen SK developing new businesses in EV batteries, hydrogen and biopharmaceuticals.
Chey Tae-won is also Chairman of the Korea Chamber of Commerce and Industry (KCCI), the largest business organization in Korea. The KCCI represents approximately 180,000 member companies of all sizes, sectors and nationalities, ranging from big businesses to SMEs. The organization is at the forefront of trade promotion and engages in economic diplomacy with foreign governments and corporations.
Chey Tae-won is a key contributor to the Boao Forum for Asia and the World Economic Forum. He is Chairman of the Chey Institute for Advanced Studies and the Korea Foundation for Advanced Studies, two organizations that promote international policy dialogue and academic exchange. He has also bolstered regional cooperation through the creation of multistakeholder forums across Asia, including Beijing, Shanghai, Nanjing, Hanoi, Tokyo and Bangkok.
In 2014, Chey Tae-won authored 'New Attempt: Social Enterprise', which was published in Korea to critical acclaim. The book underscores the importance of creating enabling ecosystems for social enterprises. In 2019, he co-authored a business case with Stanford University, showcasing SK's innovative approach to ESG as an engine of corporate growth.
Chey Tae-won is President of the Korea Handball Federation and also sits on the board of the Olympic Council of Asia. He holds a B.A. in Physics from Korea University and completed at Ph.D. Program in Economics at the University of Chicago.